My name is Geoffrey, I am French, coming from Mâcon, a town in the north of Lyon and birthplace of Antoine Griezmann (for the soccer fans 😉).
Despite my engineering background, I have a business/marketing-oriented position as Growth Manager at Ekkiden. To be more accurate, I am optimizing the business and hiring lead generation and I am in charge of the process automation as an intern in Growth Marketing. This demonstrates to me that any valuable experience you can gain is helping you finding a dream position in the future!
Before starting my placement in Madrid, I studied engineering in Paris for 2 years, and then decided to take a gap year to launch an online business. This experience enabled me to learn about business and marketing, and to find a real interest in those topics that are barely taught in engineering schools. If you consider relocating to Madrid or you just want to learn more about the lifestyle in Madrid, you are in the right place 😊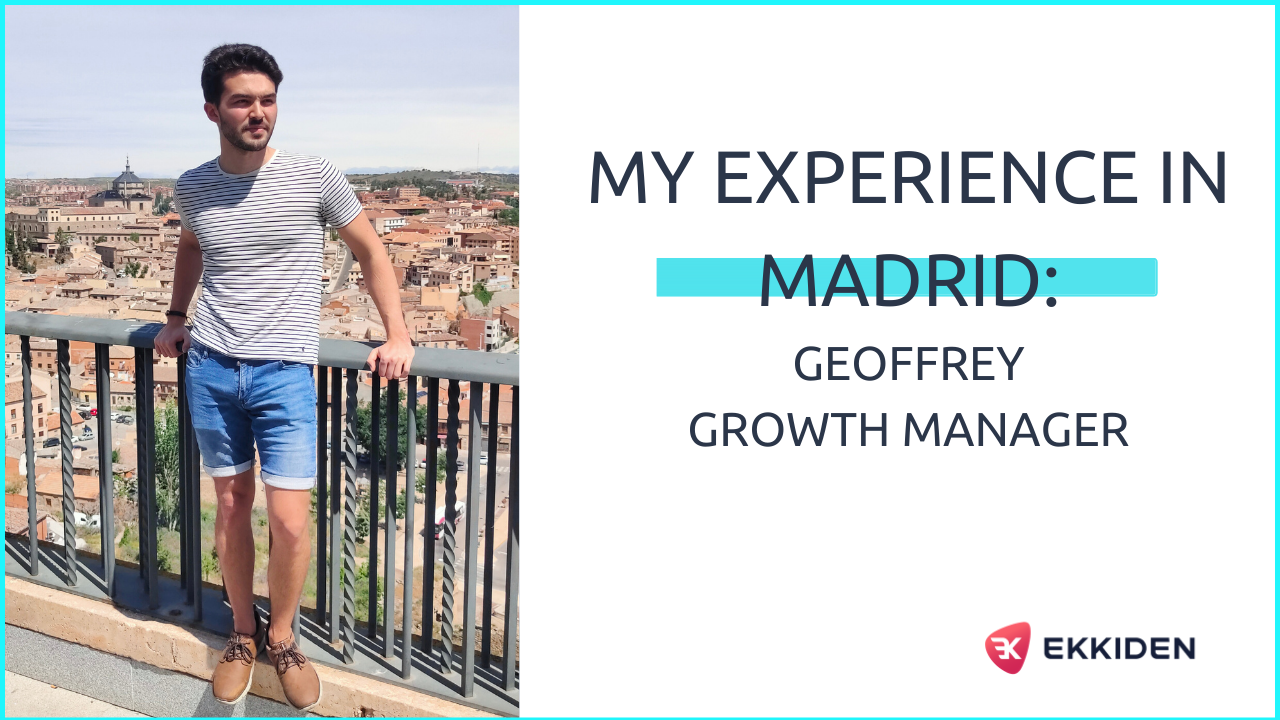 Now, you might be wondering why I decided to leave France and join Ekkiden's office in Madrid?
Looking to go beyond the traditional and fast-paced environment, I was seeking a challenging position in a young start-up. I am also a travel lover and having Spanish roots, I have always wanted to have an expat experience in Spain.  
And guess what… Ekkiden matched all these criteria!  
Let's talk about the relocation process.
Being European, the process to relocate is very easy and you do not need any visa. It was also easy for me to find an apartment. You have local websites like Idealista, which is similar to Leboncoin (for the French reading this article 😉). However, if you want to find your apartment before relocating, you can also book it online with Spotahome or an app called Badi. They verify the apartments and give you some guarantees in case you have any problems when you first arrive. 
About the contract, for those who know how annoying it can be to find an apartment in Paris because of all the supporting documents you need, in Spain you just need an ID or a passport and that was it at first. In some cases, you might need your working contract, or your university enrollment documents for students.
In some cases, and later on for other topics, you will need a NIE (Número de Identidad de Extranjero) which is your Spanish ID and tax number. You use it if you want to open a Spanish bank account or for having a Spanish phone number. 
My working experience so far
Getting to work is easy. That was something important to me. Madrid's transportation system is very good. It is clean and reliable and better than in Paris!
For instance, by subway from the airport, you only need 35 minutes to go in direction of the city centre. Also, transportation is cheap with specific tickets. Some discounts are also offered for people under 26 years for monthly tickets.
One thing which has been very different from my experience in France is lunchtime. You may know that Spanish people have their lunch or dinner late compared to most other European countries. Having lunch at 3 pm is pretty normal here, but at Ekkiden, my colleagues and I stuck to our regular times. But we are flexible. Sometimes we eat together, sometimes you can eat when you wish to.
And now to the most important part, the lifestyle in Madrid!
The city has so much to offer!
For nature lovers, I would recommend the park El Retiro which is the biggest park in Madrid. If you want to have a great view and enjoy the sunset, you can go to Templo de Debod.  
Concerning bars and restaurants, you have so many great addresses, but here are some recommendations: 
Matilda, a very nice bar with a hipster vibe.

It's

the cheapest place I know for mojitos.

(2

mojitos

for

9

euros

) 

El Tigre

, very famous for having cheap beers coming with big tapas on the side.  

Takos

, the best place if

you're

looking for real Mexican tacos. 
My advice for anyone wanting to move to this city?
No worries! Even if it's your first working experience abroad, it is easy to get used to the Spanish lifestyle and starting over. French and Spanish cultures are very similar, so you won't have a culture shock, as if you were going to Asia or Latin America. If you don't speak any Spanish though, I would recommend you learn the basics, so it is much easier for you once you get here.  I have been living in Madrid for 2 months now after landing my internship at Ekkiden, and it has been such a great experience!
If I could convince you to move to Spain, check here for open positions at Ekkiden:
Community Builder / Talent Acquisition