Is it possible to have a company where employees lead the business and are truly valued? 🤔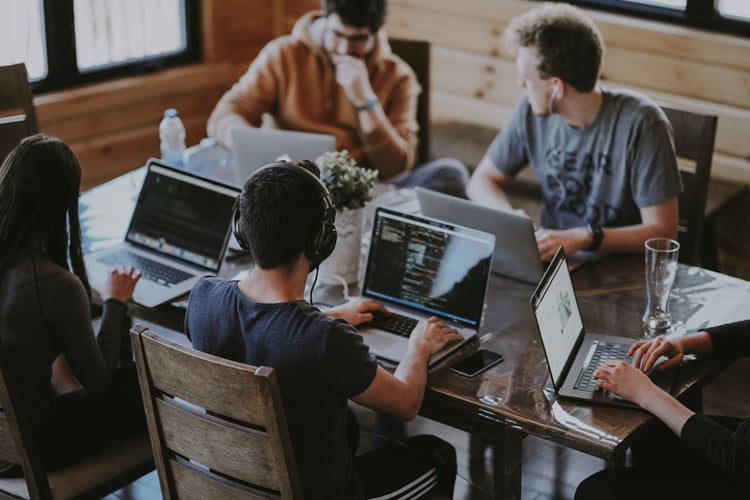 Well...We may not have the magic formula or the final answer to that question, but our team is concerned about building an innovative business model that breaks with the traditional consulting scheme.
For some people, consulting represents an opportunity that leads to a series of advantages and disadvantages when choosing a job offer.
👍 Pros of consulting
Knowledge
Being able to work on different projects for one or several clients can help to enhance the learning curve and grow internally in the team.
Networking
One of the advantages of this model is the great professional network that can be achieved by interacting with different clients or colleagues who can be of great support in future professional projects.
Variety
Not into routine? As a consultant there is the possibility of having new responsibilities and tasks every day.
👎 Cons of consulting
Stability
It is possible that a client's projects may vary, finishing earlier than expected, or not go forward, which often generates some instability in the work routine of consultants. So, if a consultant is looking for long-term collaborations, he must check the duration of the projects with the client and the manager in charge.
Workload
As a results-focused industry, consultants' commitment to their projects can involve a heavy workload that can lead to stress. It's all about balance and finding the right organisation to share the workload in order to keep yourself healthy.
Work hours
Working in a consulting firm could mean long working hours (especially at peak times of a project), which can be affect the work/life balance of the consultants. That is why it is very important to establish an acceptable work schedule for clients that allows the consultant to maintain a stable professional and personal life.
The most important part : the teams!
And what about the relationship between the consultants and the teams? 🤝
Sometimes, in a consulting group, it is not easy to feel fully involved because consultants are part of two teams. So, it is important to develop strong relationships with them.
One of Ekkiden's values as a consulting firm is to move forward and change the game, through teamwork. Building connections and collaboration helps us reach further, and at a faster pace.
Teamwork is an intrinsic element of a healthy and sustainable organization, and that is why it is at the forefront of our culture.
Therefore, we decided to take our organization to the next level and create a proposal that differentiates us from our competitors, based on an open model, allowing everyone to have an impact that facilitates exchange, synergies, initiatives, and the development of new skills.
Introducing Squads
S…what?
Why create squads ?
Yes. In our search to be different, we came up with the idea of separating the link between the sales and consulting teams through the Squads.
The reason behind this ambitious project is precisely to encourage the participation of all members of our team, regardless of their department or experience; in addition to being an opportunity for our consultants to develop and grow in new sectors such as business, finances, recruitment, among others. It is also a good opportunity for each consultant to develop their professional career in contact with other consultants and to have a real impact in the company.
Where are we today? Where do we want to be tomorrow? 🗺️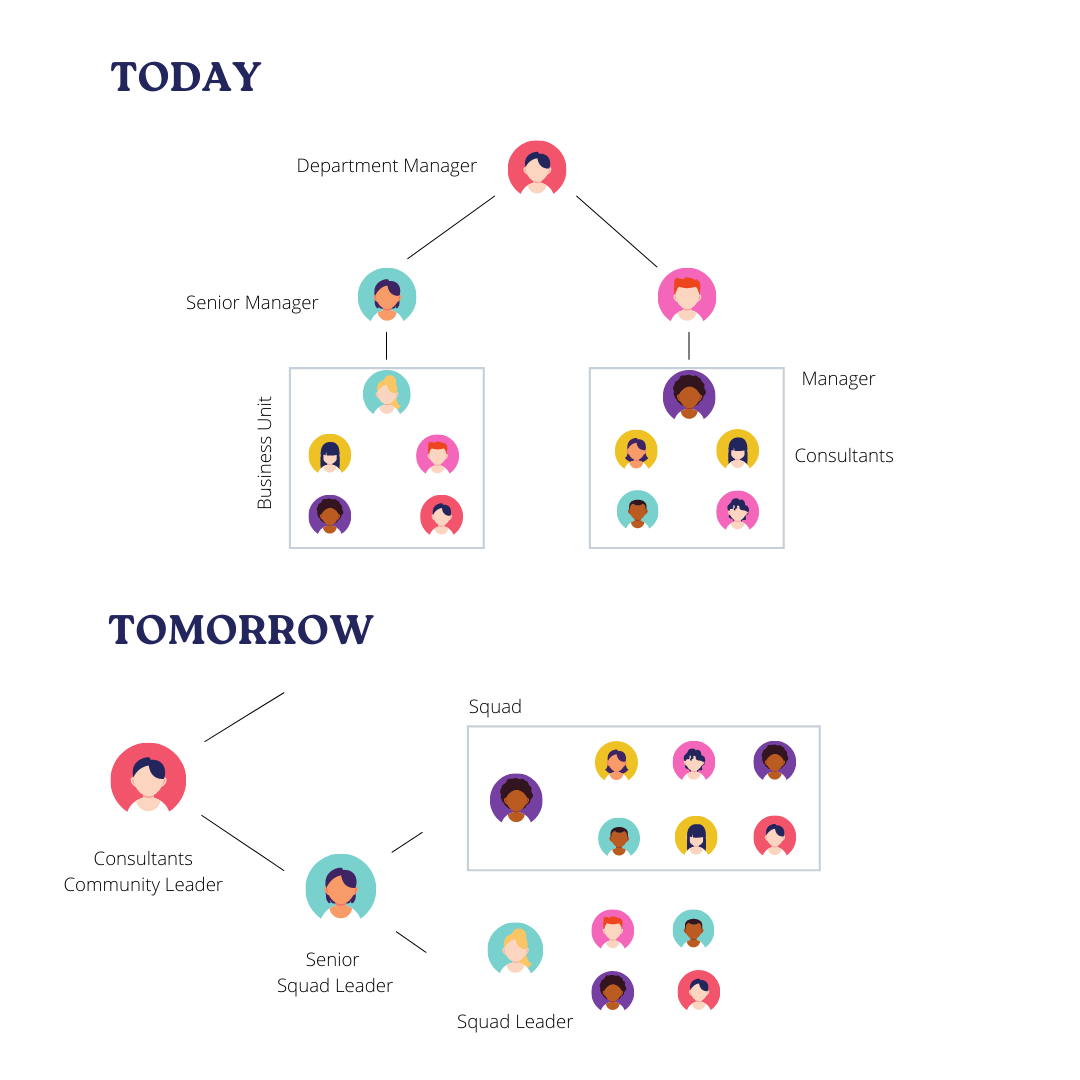 What is a squad?
This new organization is based on groups of consultants and staff members, who have interests in a common topic and seek to learn from this subject, share their skills, and promote it through the different channels and departments of our company.
The benefits
From consolidating and sharing learning and new skills, having the opportunity to manage and participate in diverse (and international 🌍) teams, creating content and putting our values and mission into practice, this model has objectives that put our consultants as the engine of Ekkiden's growth.
In fact, this has become the challenge and motivation to promote the Squads. Although we have big clients from different industries and sectors, we want our consultants to also feel part of our team and can develop professionally beyond their daily activities.
With no doubt, the lack of evolution and professional development can be one of the greatest challenges within the traditional consulting model.
But for us…Challenge accepted! 🙌
Seeking to be different and put people at the forefront, the Squads offer our consultants the opportunity to manage their careers and acquire new skills in a dynamic environment with endless projects to develop.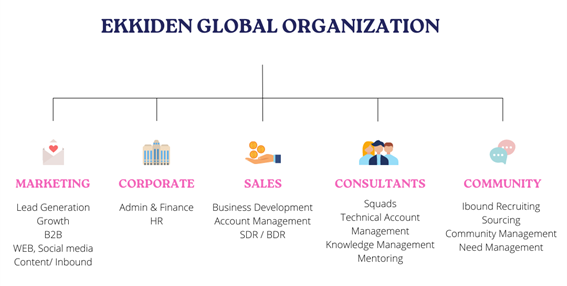 Ambitious? A little. Impossible? Never. 🙅‍♀️ We have the support of a great team that promotes and encourages the structure of the different Squads and their members.
The different types of squads
Our goal is to have different types of models, such as:
💻 Consulting Squad
It consists of functional, technical, or sectorial teams and can address a myriad of topics, from quality and product management, software and programming languages in trend or booming areas such as retail or banking and finance.
🌎 Geographical Squads
Our goal is that each team can operate in the different countries where Ekkiden is present, and beyond!
🏢 Corporate Squad
This squad addresses the different internal departments of our team. From Human Resources, Finance, Business and Sales to Marketing and Communication.
The role of each member
In addition to the different types of Squads, within the teams there are also differences between the members that make them up:
🐱‍👤 Squad Leader
As the name suggests, this is the person who manages and proposes the organization.
🙋‍♀️ Active members
Those who have an active role in content creation, business development, recruitment support and mentoring.
Padawan
Members without major responsibilities within the Squad, except contributing, helping, and learning.
What else?
Cybersecurity, Omnichannel, Data Science, Microsoft technologies...
There are endless topics to work on!
And before embarking on the great Squads adventure, the proposal must go through the Orga Crew, made up of team members and who provide support and guide the potential Squads members along their journey.
…And what other benefits does this model have? ☝️
Of course, being part of this new organization requires not only motivation, but also time.
Don't panic! The efforts are for a good reason and will bring wonderful results.
In fact, our team offers conditions to squad members that include bonuses for performance and objectives, a budget for teams to invest in training, fairs, and exhibitions and, why not? for team events outside of work. 🍻
Our mission 🚀
With this, we seek to build an organization that unlocks the potential of our people and brings out the best in everyone.
So, if you want to join this innovative model, what are you waiting for? Discover our different offers and join us!