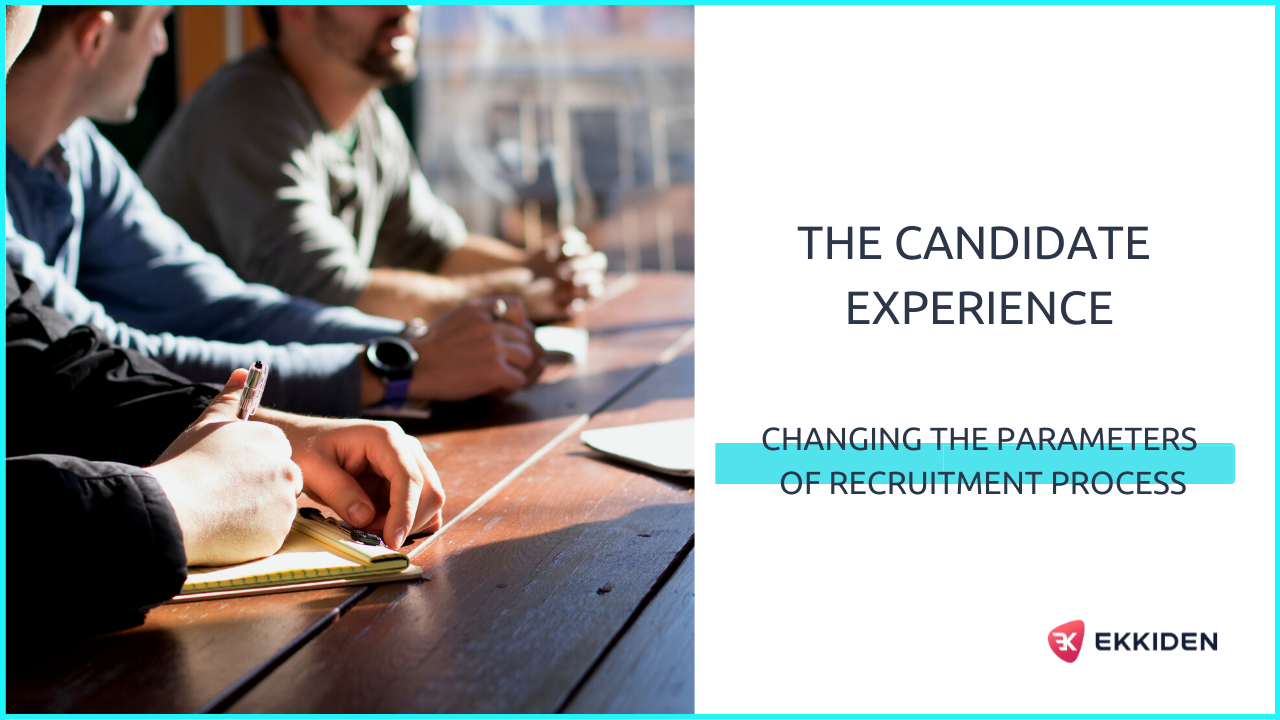 One key aspect during every selection process is to consider the candidate's point of view, since not only the tasks and responsibilities of the position are considered when looking for a job, but also the values ​​and culture of the company.
A good candidate experience makes them feel more comfortable to show their skills, interests, and aspirations to get the position, while on the recruiter side, you will get more transparency and will be able to evaluate the candidates more easily.
💼 Let´s talk about the candidate experience… What is it? What stages of the process does it involve?
When we talk about candidate experience, we refer to the final impression of the candidate about the selection process and the company involved.
Several factors are involved to create this final impression, such as feedback, support, transparency, constant communication, etc. Through this experience, the candidates can change their image of the company since it's their first contact with it and it provides the full picture of the values promoted and how the teams work internally.
One key aspect that helps a company reflect those values and create an impression is its social corporate responsibility. This concept involves multiple things and actions about a firm, and one important point here is how companies treat their people or potential employees. This can be a significant matter for the stakeholders and of course for your own business since it will impact the talent you attract and retain.
📊 In fact, a study carried out by PricewaterhouseCoopers revealed that nearly half of the candidates in high-demand industries declined a job offer after having a bad recruiting experience. In fact, candidates who had a bad candidate experience are far more likely to tell others not to apply to an organization, which could include a negative review in job boards like Comparably or Glassdoor.
In fact, there are three main reasons for job seekers to decline an offer after having an interview with the recruiters, according to hiring research done by Career Plug.
Reasons for declining a job offer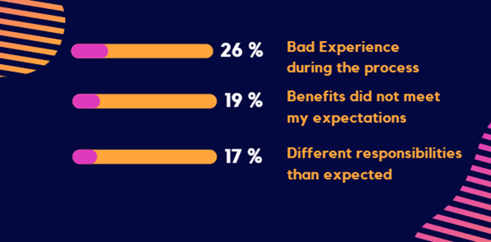 🤷 Still not sure if improving the candidate's experience is a good idea to boost your business and company's image?
The main advantages of taking care of your potential employees, among others are the possible comeback of rejected candidates, talent attraction caused by recommendations between the candidates and their social contacts, more committed employees from the first day, and a better employer brand, which means that, hired or not, the candidate will have a good impression of the company.
There are multiple benefits of enriching your candidate's experience, not only as a company but as a recruiter. It will make your job easier and your day more pleasant!
But… How can you improve your candidate's experience?
There are some easy steps you can take to improve the experience of your candidates and take advantage of all the benefits mentioned before. These steps move between three key areas: communication, interviews, and follow-up.
Grab paper and take note of the tips we bring you!
💬 Be transparent. Don't hesitate to give all the information you can, including aspects like salary o remote conditions, to your candidates. With this, both parties will avoid losing time when the terms are not met.
For our team, this is a relevant point, and we make sure to be as transparent as possible, providing all the information to our different candidates along the process.
🗣️ Communicate effectively. Communication is key! Give your candidates a valid phone or email address to communicate with a recruiter (not the general mail of the company) and communicate with them, not only to give feedback on the process but also to share more about your company, the different social media where people can discover more about your team and news it might be interesting for your candidates.
Our Community Team values this, and we seek to provide content to share our knowledge, get in touch with the members of our community, and keep our team well informed!
👩‍🏫 Follow up in every stage. Again, it's very important for a candidate to have all the information possible! If it's a "no", make sure to provide good feedback and offer support for future opportunities.
That way, the candidates can focus on other processes. On the contrary, for those staying in the process, it's important as well to inform them about the length of the process will take, the different stages and interviews pass and what did the interviewer thinks of their performance.
At Ekkiden, one of the main tasks and responsibilities of our Recruitment and Business team is to provide feedback to all our candidates during their processes, making sure to communicate the positive and negative updates of their interviews.
🥵Don't make selection processes too complicated. The market is getting more competitive, and recruiters are having a difficult time getting the attention of potentially good candidates. A long process with too many obstacles (long technical tests, too many interviews, lack of concrete responses, etc.) can be a defining point for the candidate to not go on in the process or lose interest, so make sure to establish deadlines and facilitate the experience for your team and possible candidates.
Of course, there are more actions that can be done to offer the best candidate experience, like taking care of the job descriptions of your career board, active listening when talking to candidates, fast replies, and solutions, try to get feedback from the candidate after the process, etc.
There is always a way to improve and in a fast-moving market like this, it's important to keep all these factors in mind.
The support of our candidates helps us to keep growing as a company, and that's why for us is important to be in constant communication and provide real feedback from our team and our different clients. That way, we not only assure that we can recontact those candidates, but we also offer them a good candidate experience to perform in an ethical, responsible, way to promote a better culture in the consulting sector.
🚀 Our Ekkiden Community has been key to keeping contact, going to events together (also virtual events!), and sharing our knowledge and values within the whole company!
If you want to discover more about our team, don't forget to follow us on LinkedIn and Instagram.