When you think of community, what is the first thing that comes to your mind? 🤔
The truth is that it is such a broad term that it seems difficult to label it into a single idea. But the reality is that the word "community" has a strange power. It conveys a sense of togetherness, positivity, identity, and commonality.
Today, many organizations are looking to create communities that can help create connections, collaborations, and shared experiences among their members. And it is precisely the creation of these spaces that act as a channel to listen to what people want and help them achieve their goals.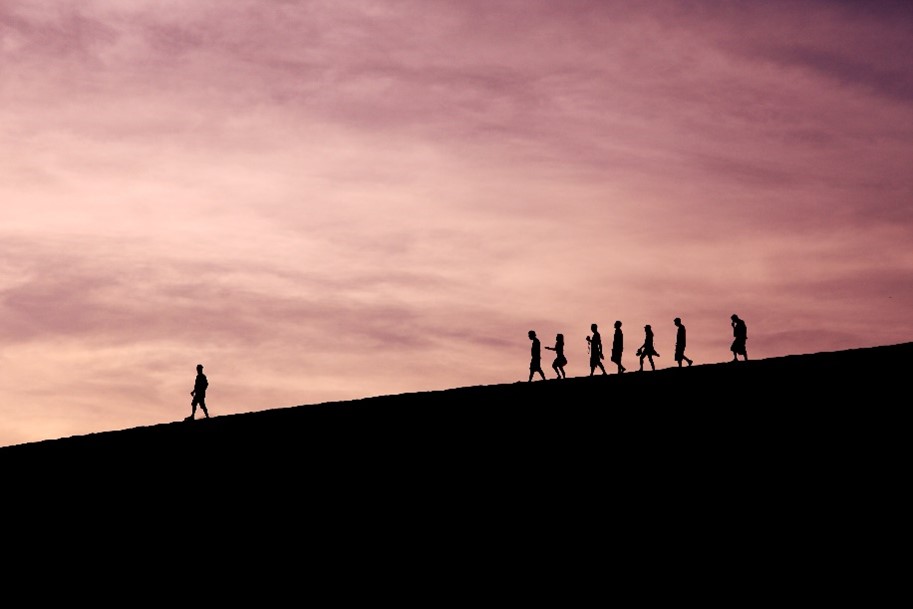 Taking it to the digital world, online communities have served to bring people together through a common purpose, with the possibility of growing beyond borders.
And so, in the summer of 2019, the Ekkiden team put on the table the possibility of creating a space that goes beyond consulting group and focuses on bringing together members looking to empower their skills around technology and innovation.
And that was the beginning of TogetherbyTech, a community that seeks to strengthen relationships with our candidates, inspire and motivate anyone interested in the tech world, share knowledge, give support, create opportunities and above all, boost the careers of our community members.
🚩 But where to start?
The first thing you need to know is that TogetherbyTech is an open space, not only for our thousands of candidates, but for any tech enthusiast looking to take their career to the next level.
Sharing experiences, learnings, and providing support to those who need it is at the heart of our community, and accessible to all members through posts or comments.
So, gone are the days of spending hours looking for tips and resources through your Google search. Our community allows you to receive solutions quickly and easily to all your problems or doubts.
In fact, each added content is a new opportunity to grow, so we have different spaces going from the latest industry news, tips and advice for your job search, events, specialized articles and even memes (yes, because in our community there is also room for fun! 😁).
🙋‍A space where members are the leaders!
People can change anything as long as they are together, and that was our main thought when we decided to create this community!
At TogetherbyTech, our members are the ones who have the voice to express what they want and share with everyone their experiences and knowledge.
...Of course, always respecting the rules and maintaining respect in the community. ⚠️
In addition, every day we add new members from different parts of the world such as India, Spain, Uruguay, Croatia, or Russia, which is also an excellent way to connect across borders.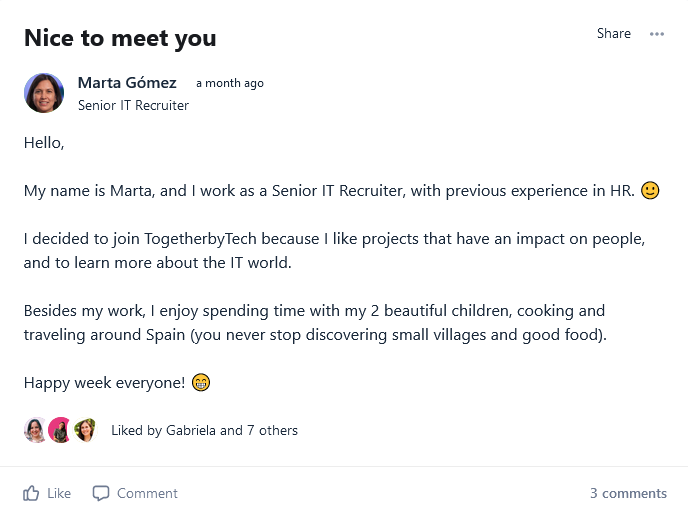 And how do we get to know our members better? Of course, discovering new technologies is our goal, but so is getting to know those who bring something new to TogetherbyTech and creating conversation with everyone.
Because if we've learned something from the covid-19, is that 2.0 relations are here to stay. 👨‍💻
🤝 Partnerships to boost your skills
In our search to promote the exchange and participation within our community, we decided to go beyond our spaces and create relationships with communities that think and have the same goals and ambition as us.
Since then, TogetherbyTech counts with the support of amazing partners such as Lidr, an ecosystem that helps to make the step from developer to lead positions, and AllWomen, an academic space that seeks to encourage women to enter and thrive in the tech industry at all levels.
Developing strong relationships and connections with a specific network of like-minded people offers opportunities to grow, no matter in what attend. People have always grouped together, exchanged, and supported each other. By joining forces with others who have different skills, the chances of success are increased.
🤲 But most importantly, the involvement of our team
Of course, our community would not have been possible without the support of Ekkiden's team. Our group of consultants, freelancers and staff support us every day to offer the best to our members.
Online events, articles, videos, and advice are just one of the many initiatives we seek to continue to promote within TogetherbyTech.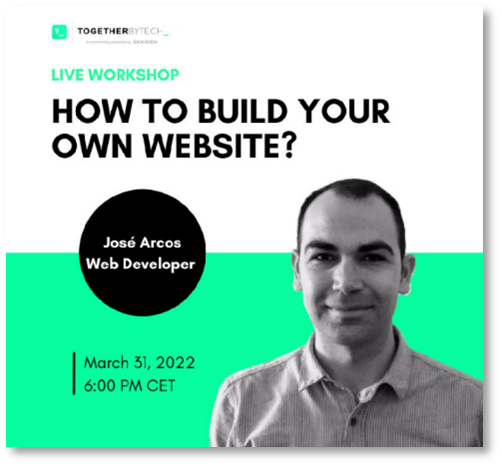 Web development, Microsoft technologies, news from the world of retail and e-commerce or even topics such as cybersecurity, artificial intelligence, or data? If you ask for it, we offer it!
😉 Have we convinced you to join this great space?
If you are ready to take the step, get ready to sign up. How to do it? Easy peasy! You will only need:
👉 An email address (don't worry, it's just to keep you informed of the community's news).
👉 A password (a good one!).
...And you will be officially part of TogetherbyTech. 🥳 Don't forget that we want to get to know you, so feel free to introduce yourself in our members' space.
Are you ready to boost your career? Join us today!