As you already know, the recruitment market has never been tighter. Companies are struggling to attract and retain the best talents available. 🌟
The good news is that this puts you back in the driver's seat and allows you to choose the project and assignments you want to do, and which company you want to join. ✊
So it makes sense to question your job and ask yourself if you'd be better off somewhere else... 💭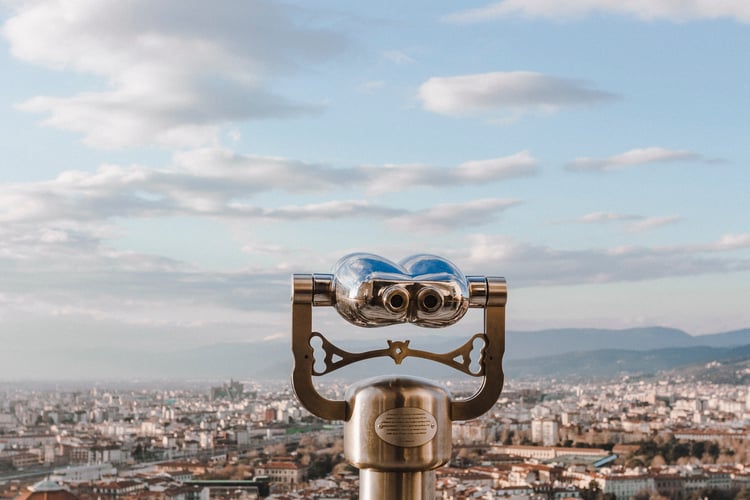 But how can you change jobs discreetly and do your research without your employer catching you in the act?
Here are 4 tips to help you through this tricky process, generously given by our VP HR Hélène. 👇
#1 Update your LinkedIn profile 👔
You have to start somewhere. As you already know, where there is employment, LinkedIn is never far. As a reminder, LinkedIn is:
A platform used by 87% of recruiters,

122 million people who have had interviews through this platform, of which 35.5 million have been hired by someone they were connected with on the platform,

6 people hired every minute. Why not you?
So it's in your best interest to keep your profile clean if you want to change jobs. 🧹
Start by making sure your profile picture is professional. It's your first impression: inspire confidence! Choose a clear photo, where you are alone (to avoid confusion), framed from the shoulders to the top of the head. And smile! 📸
Superfluous? Not at all! LinkedIn profiles with a photo receive 21 times more visitors and 36 times more messages. It's also 9 times more connection requests, 21 times more likely to get visits and 36 times more messages from your network!

However, you are not just an appearance. So we advise you to update your experiences. Add a title for each experience, and describe in a few lines the missions, responsibilities and projects carried out. You can even add links, media and documents to showcase yourself. 📄
Avoid using unusual or unfamiliar job titles, and think search engine: what keywords do you want recruiters to be able to find you by? Up-to-date and well explained with the right keywords experiences will get you 5 times more connection requests, 8 times more visits to your profile and 10 times more messages. 📈
Last but not least: your skills! Highlight your professional skills and abilities. What are your 5 competitive advantages that differentiate you from your peers in the same position? Select your main skills, choose the order in which they appear and pin the most important ones. 📌
Our extra tip: LinkedIn offers the possibility of displaying a #OPENTOWORK insert on your profile picture that will only be visible to recruiters. 👀
In short: make sure you are found by positioning yourself correctly, without arousing suspicion!
To increase the reach of your job search, you can also subscribe to recruitment newsletters, or join communities like Togetherbytech to:
👉 Meet and learn from innovation leaders
👉 Discover new technologies and trends
👉 Increase your skills through training
👉 Dive into other industries and find inspiration
👉 Expand your network and look for a job
👉 Access quality content and events
👉 Build your career and grow fast
👉 Find support for all technological and administrative issues
👉 Discover the tools and applications you were looking for.
👉 Learn methodologies and get ideas.
#2 Begin your research 🔍
There are no magic miracles here! To find the job that suits you and apply for the best offers, do your research using the keywords that seem most relevant to you.
On Google, you can type in the name of your current job with the name of the city in which you want to work. You can also add some keywords about the working conditions, as in this example:
🔎 Java Web Developer Boston remote
Our extra tip: use Boolean operators. These are words that you can put in inverted commas in your search. For example:
"AND"

narrows a search by combining terms

"OR"

broadens a search to include results that contain either of the words you're looking for

"NOT"

narrows a search by excluding terms
On LinkedIn, it is possible to apply a myriad of filters in the Jobs section: date of the advert, level of experience, company, type of job, remote or not...
Don't hesitate to follow the career pages of companies that match or interest you, as well as the profiles of recruiters: many post ads frequently, which will allow you to see offers without even having to search for them. 😉
#3 Activate your network discreetly 🕸️
This is also an opportunity to create a network of recruiters ready to be activated whenever you want to contact them and find out more about their vacancies. 💬
Speaking of activating your network, our next tip is to do it... but in private. How do you do that? No "dear network" messages. Search your connections for anyone working in the HR field and contact them via private message. This will allow you to make your intentions to change jobs known without attracting attention. 👍
OK, so recruiters, HR... is that it? Of course not. You can also contact specialist recruitment agencies directly on the platform, or headhunters like Anaïs Kyen.
Our extra tip: when you get to the interview stage with a recruiter, don't hesitate to tell them that the current employer is not yet aware of your approach, so that they don't go and take that reference. Otherwise, it's a bit embarrassing... 🤭
#4 Be honest 👐
Put yourself in your employer's shoes. It is a bit brutal to announce your departure without having informed your hierarchy in advance. A departure must be prepared, for you and for your employer as well. 🗃️
Be transparent with your employer about the reasons for your departure. Prepare your arguments and explain clearly why you want to leave or simply undertake a job search. This will allow them to organise a proper handover to ensure the continuity of the company's activity, and it will also give them time to accept and integrate your departure. 📅
Our extra tip: start your search underwater and be honest as soon as you find a new job.
This last piece of advice is very important to us, as it echoes our value "Do it with integrity". And we don't just mean business. At Ekkiden, we want to perform in an ethical, responsible way. Most of all, we want to be aligned with our personal values. We build trust as a pillar to our identity, so transparency is key throughout our activity and governance. At Ekkiden, our honest mindset helps us grow our relationships in a healthy and trustful way. 🙏
Put your fears and apprehensions aside and prepare your departure with your employer in the best possible conditions by acting with integrity, transparency and honesty.
Want to know more about us and our values and company culture? Check out our homepage and our article on what makes us different.