You may have heard a lot the word "company culture" over these few years. It seems to have become a very important notion when it comes to what's going on inside a company.
But what is really hiding behind this term, and why does it need to be cared for?
In this article, we explain what it means for Ekkiden and how it has become one of the key factors of our success!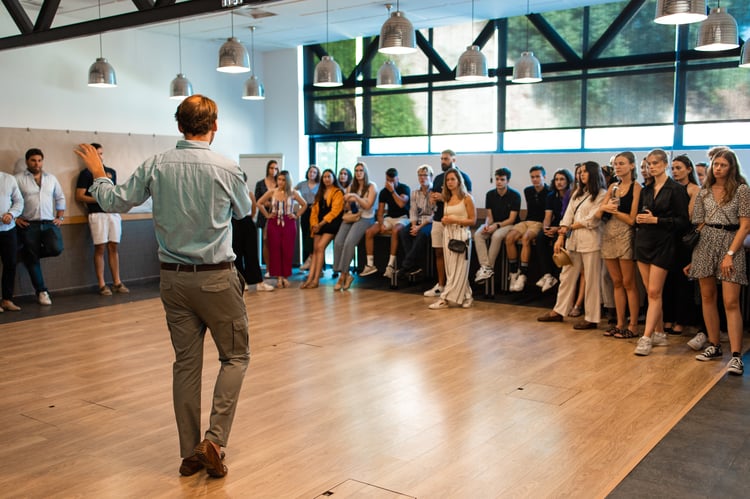 What is company culture? 🤔
Also known as organizational culture, it is a phenomenon that has been analyzed by experts of the business and social science field for years.
Nowadays, in an era where companies take place in the most competitive markets ever, they encounter the need to humanize themselves and to invest in employer branding. In that sense, we are used to hear concepts, such as Corporate social responsibility or Team building¸ that were totally invisible decades ago, when businesses were more focused on the increase of their profits.
However, although all this more employee-centered philosophy is more present is modern organizations, do we really know its meaning?
If we look to specialized literature, we find that culture is "a set of shared characteristics in the behavior of individuals within a specific group" (Caprar et al., 2015). Therefore, putting this definition in the context of a business, we could say that it consists in a series of values, beliefs and behaviors that compose the shared identity of the company, its DNA.
Ekkiden's values 🧬
Ekkiden's core is based on these five fundamental pillars: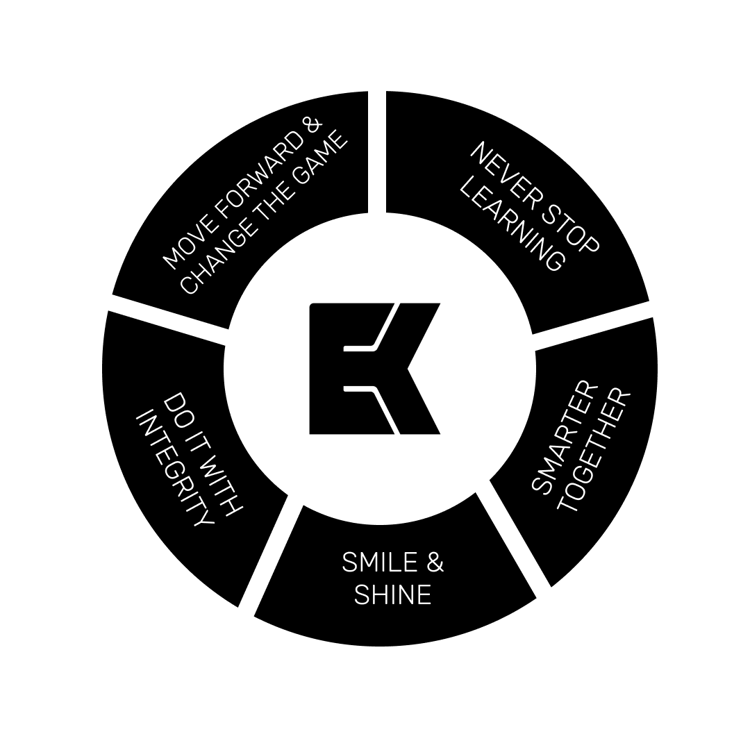 In a nutshell, this the meaning behind our values :
Smarter Together We're taking the famous "alone we go fast; together we go further" thing very seriously.
Smile and ShineBecause we're big fans of Rihanna's mindset 🎵 Shine bright like a diamond 🎵 and because it's so much better to be happy at work !
Do it with IntegrityDo you know "Be yourself, because all the others are already taken" ? Yes. That's a principle that we share with the FBI.
Never stop learningRumors has it that boredom kills, so we prefer to move and stay alive (too much pop culture references ?).
Move forward and change the gameEkkiden is able to propose two things that are particularly searched nowadays : meaning and impact.
We give a lot of importance to them for our talent acquisition strategies, but also because we firmly believe that we can do things in a different and better way. The experience and ideas of all the members of our organization matters, as they are considered the heart and soul of our business, and our main potential strength.
Therefore, we put a lot of effort in creating an environment based on equality, education, wellbeing, empathy, and teamwork. The priority of Ekkiden is to be a place where everyone can feel free to express their ideas and, as our motto says, to unleash their potential. 🚀
It's the best way to build a modern consulting group in which teams, candidates and clients can enjoy a personalized, rewarding, and innovative experience.
If you want to learn more about our core values, you can check out our About us page.
How do we translate our values into concrete actions, being an international company? 🌎
Transforming our vision of work through visible results becomes even more crucial and complicated, when you know that we have teams in four different countries across Europe : not having all the employees in the same location may seem challenging at first glimpse.
In this kind of context, how do we foster team building dynamics and closeness, when some of us have never meet in person?
At Ekkiden, we have launched some initiatives with the main goal of keeping the team close, despite the distance:
Monthly Beer and Cheer 🍻
Once a month, every member of the team meets together remotely to discuss about business topics, but also to give kudos and, of course, celebrate!
Ekktivity: Game Day! 🎲
If Fridays were not cool enough, in Ekkiden we try to make them even better with some games. One of our favorites is Pictionary. 🖍️ Don't let your creativity die!
Team activities 🎉
It's great to be able to disconnect from work routine sometimes, and to participate in a fun event with your coworkers. And it is even better when at the same time you learn something from them.
For this reason, we often organize that kind of lighter times, like a special week dedicated to languages. As we have the advantage and pleasure of having team members from different nationalities, we were able to enjoy English, Spanish, French and German classes.
There, we learned useful sentences to survive in various countries, and, as well, some random (useless) statistics. Did you know that in France they eat 15 million baguettes daily? 🥖
We also organize one-time events, where every member of the teams can gather around a particular theme or news.
Yearly team building 💪
Every year, our staff organize a big event, where every member is invited to come physically to encounter, exchange and have fun with each other, with a program full of surprises… 🎁
Monthly report 📆
Every month, we send to each of our consultants an overview of the latest news, successes, figures, etc. The goal of this report is to see how everyone is moving forward, and the impact that you have on Ekkiden's activity.
Coffee time ☕
The name of this activity speaks for itself : it's a 30 minutes moment where you can share a coffee, remotely or not, with someone who works at Ekkiden, whether you're part of the staff or a consultant. The goal is to get to know each other better, and to really meet everyone as much as possible.
Weekly report 📆
Every Monday, each member of our team receives a review of what happened last week : new joiners, successes, news… 📰 That way, you keep in touch with everyone's work, and you have access to an overview of Ekkiden's latest progresses and activities.
Good news ? Share it ! 🔁
When we have good news, we are happy. And happiness is communicative. At Ekkiden, we have a space where everyone can talk about the lately achievements or productions they are proud of, to keep everybody motivated and be able to congrats each other. 🥳
Next Gen Program 🌱
We have a program dedicated to Ekkiden's interns from all our departments, to give them the opportunity to play a key role in the impact of our business.​ We offer them a space where they, regardless of their role, can carry outside projects, discover new areas to develop and connect with other team members.
All Hands meeting 🙏
It's a digital meeting exclusively for the consultants, to tell them about the latest news and projects, review the figures of the past quarter and discuss the next quarter. It allows them to notably meet each other and to improve their activities : sharing is caring !
Our culture defines who we are as a company, what moves us, where we want to go, what do you we want to guide us, and the kind of environment we want to encourage and develop. At Ekkiden, we can proudly say that, day after day, we remain true to our values, we try to do things in our own way and to draw our own path. 🧬
Do you want to join the adventure? Check out our Career page to see if we have something to propose to you !