According to the blog of Amanda Johns Vaden, it only takes seven seconds to make a first impression on another human being. Within this short time, our brains perform a thousand computations and judge whether someone is trustworthy, confident, likeable or competent.
Most of the time, we are focusing on what to say to make a good first impression. But how many words is it possible to say in those seven seconds? After the regular greetings and a quick introduction of yourself, there isn't much time left to be convincing, and a decision has already been made.
In fact, the study shows that only 7% of the first impressions are based on the words you'll say. Which means than the rest of someone else's opinion (93%) is built on other parameters: what they'll see and what they'll hear.
Even if a virtual interview eliminates direct contact with the interviewer, you still have a chances to leave a good first impression. It should still be taken seriously and conducted formally.
How can you leave a good first impression on a video interview?
#1 - Test your equipment beforehand and be ready: Good internet connection, microphone, webcam, charger...
There is probably an hour planed for your interview. Don't waste time! Make sure in that you are fully ready when it starts - not just on the day of the call.
Did you know that up to 95% of online meetings start late? People often need to fix something during the meeting: problems joining the meeting, problems with technology or equipment. It can be very frustrating when this kind of situation already happened several times during the day. Especially in the current context where most of the meetings are happening online.
Make sure the program is installed on your computer (Skype, Google Hangouts, Teams, Zoom – among others, are widely used) and runs smoothly. If you want to be on the safe side, also install the app on your tablet or smartphone to have a backup in case of emergency.

Also, make sure your notebook battery is fully charged and connect your computer to the Internet with a network cable to be on the safe side, instead of relying solely on Wi-Fi.

You already have an account for the tool to be used? Brilliant, but is it also suitable for business? Your student Skype account with the username "Master_of_Disaster" might not leave the desired first impression.

Check your profile picture as well as your status entry.

Every app offers the possibility to run a test call for audio and video. You should definitely run a test to ensure your set up runs well.

Be well equipped! Even very good profiles might lose traction because of a bad microphone for example. Ideally, use a headset with it own microphone to ensure a better sound quality.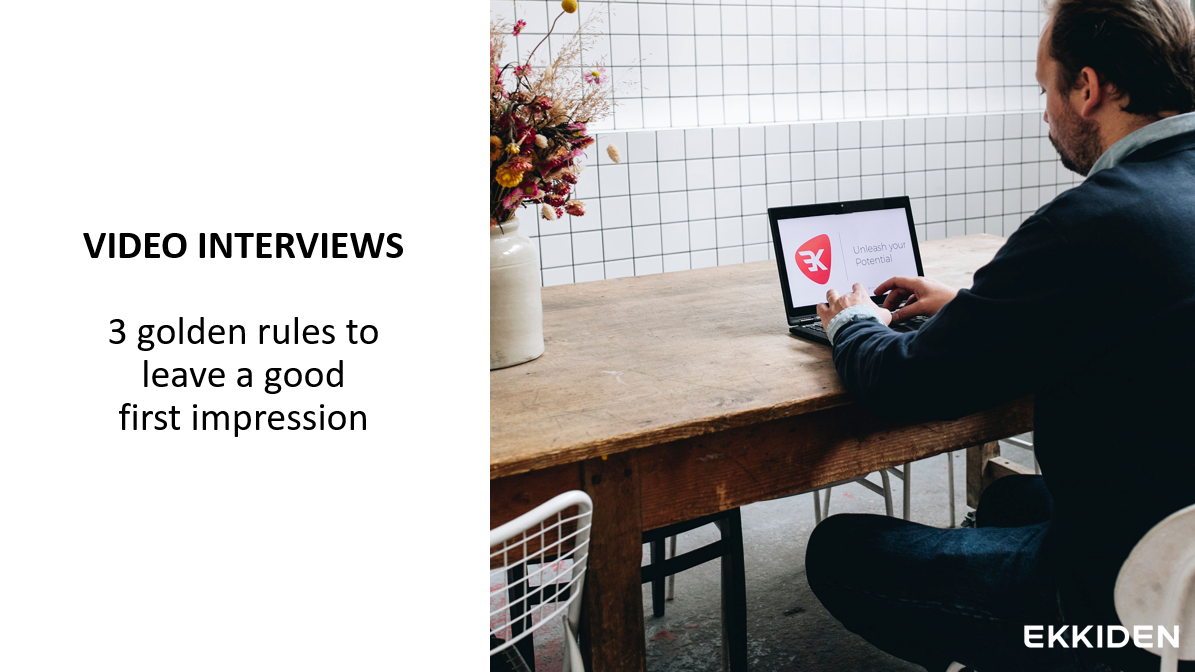 #2 - Think about how you would normally behave for a physical interview: an interview still is an interview, even online.
Yes, you'll probably do the interview from your apartment. But this is still a business appointment where you try to show your best side.
Dress as you would dress for a job interview on site - and in full. Even if your interviewer may not be able to see the lower half of your body: your jogging pants might affect on your appearance and your self-confidence during the interview.
Take notes, don't read notes. You are supposed to be prepared for the interview and not read the company website while on the call. This leaves an unprofessional impression. Even online, we can see you 👀

Or do it in a smart way: spread out all the necessary documents, for example the job advertisement, and your resume so that you can see them at a glance without attracting attention. A small cheat sheet with important key points can be attached directly to the monitor, for example.

Still try to keep eye contact - well, look into the camera! The eye contact in the interview shows your counterpart that you are still on board and listening. Even small gestures such as a nod of the head or a (quiet!) smile can maintain the connection with your interview partner.

Due to possible delays and distortions, it is important to speak distinctly and not too fast Be sure to let your counterpart finish. Otherwise important information may be lost. If you have not understood something correctly, try again.

A dry mouth is one of the many symptoms of anxiety, a glass of water might be useful.
Too many candidates have to slouch to fit into the camera frame
#3 - Your environment probably counts as much as you - you should choose a neutral background, a quiet environment, a good lighting...
A video interview offers you the possibility to set yourself in the best possible visual environment, which is an advantage on physical interviews in unknown territory. You will also probably feel more confident and secure in familiar surroundings. But even if you are conducting the interview from home, you should take it just as seriously as an interview with a potential employer on site.
Shine in the light. Ideally, try to use and indirect or diffuse light source from the front and slightly from below. With lighting from above, unsightly shadows appear under the eyes; if the light comes from behind, you will be barely visible. Light from the side can quickly appear too dramatic.

If your webcam isn't at the right level, take two minutes to level your computer with a few books for example. Too many candidates have to slouch to fit into the camera frame.

Create a calm atmosphere for conversation. If you do not live alone, make sure that you are not disturbed during the conversation by family members or roommates. Pets should also be locked out for the duration of the conversation. If necessary, close the windows if there is a risk of noise from outside. Set your cell phone, telephone and doorbell to silent.

Think about the background. Remember that the person you are talking to can see not only you, but also a part of your home. The background should be neutral and serious. It doesn't necessarily have to be a white wall, in fact it may even look rather unpleasantly sterile. With the rock star poster or private party photos on the wall you do not necessarily collect sympathy points with the recruiter. In some tools, it is even possible to customize virtually the background.

Just relax! If there is anything that might disturb the meeting, just inform the interviewer at the beginning. They will surely understand given the current Covid situation.