There are countless players in the service industry, these IT & digital consulting company that continue to grow at a frenetic pace with more and more captive clients. 🚀
One might ask why Ekkiden was launched in this context, why another consulting company for IT & digital, why the desire to compete with the toughest in the sector, and for what purpose? Here are some answers, given by our CEO Geoffrey.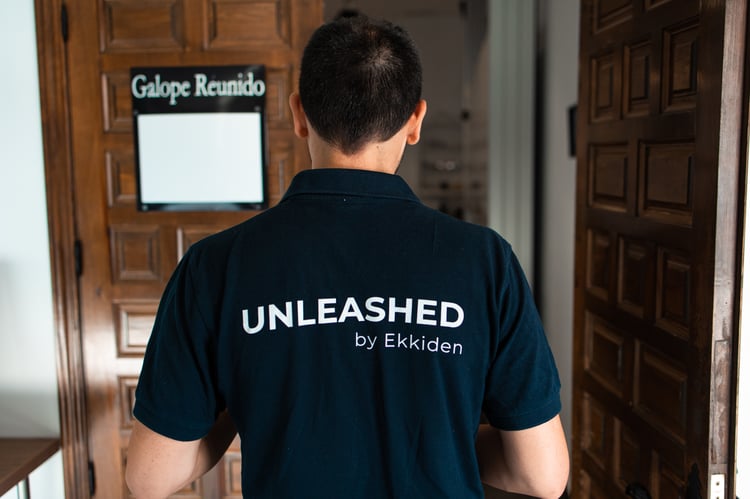 Consulting companies can be broken down into three categories of players: the large groups on the one hand, that are generally listed on the stock exchange and have several tens or even hundreds of thousands of employees; the small and medium-sized ones, that are more or less specialized; and finally, the freelancers.
Freelancers: the future of consulting? 🔭
If we take a closer look at the world of the self-employed in the It & digital consulting sector, new modes of consumption are appearing, riding the wave of the self-employed status.
Quality players such as MALT, Comet or crèmedelacrème (to name but a few), accompanied by a whole ecosystem of start-ups for banking, insurance, or accounting services, are energizing and modernizing the segment. ⚡
This wave has allowed many talented engineers to become self-employed, and finally to be independent, better paid, able to choose their missions, to not have to answer to anyone, to have a great life! 😇
Despite the many articles praising the merits of self-employment, "I think the so-called "explosion" of this sector should be put into perspective", Geoffrey states.
There are twice as many freelancers today as there were 10 years ago. So yes, twice as many is a lot, but it is not a tidal wave as some would make believe. Even though it is undoubtedly a background phenomenon.
"I understand very well that after the abuses of the large consulting groups, consultants want to free themselves from these parasitic companies, in order to be better paid and freer", Geoffrey explains. However, this phenomenon leaves him skeptical for several reasons.
👉 On the one hand, not everyone is cut out to be independent. Even if the paperwork is made easier, not everyone wants to deal with the administration that comes with this status (and there are some!).
👉 On the other hand, "talk to the freelancers around you if you know any: you will quickly realize that when a freelancer wants to take out a loan to buy his own home, bankers don't jump at him when he explains that he is self-employed!" Geoffrey deplores.
To conclude, if freelancers represent a significant part of the consulting industry, they do not represent the future for our CEO, for the reasons of precariousness of the status mentioned above, but also and above all because consultants like to work in a team, to belong to a group, to bring added value to their client through offers, large-scale projects, and broad and complete skills.
"By nature, people need to work within a group, because the collective makes sense and sharing is a fundamental and promising value", Geoffrey claims.
And that's the reason why Ekkiden decided to take its organization to the next level and create a proposal that differentiates us from our competitors, based on an open model 👐 allowing everyone to have an impact that facilitates exchange, synergies, initiatives, and the development of new skills. 
This proposal is named the Squads, and its goal is to develop the professional career of our consultants in contact with other consultants and to have a real impact in the company.
Frustration factors of employees in large consulting companies 😒
Freelancers are not the future of consulting, ok. So, is it the large companies, well installed on this market? 👨‍💼
"Not really", Geoffrey tells. "For I know thanks to a lot of testimonies that these companies only frustrate its employees, for 2 main reasons".
👉 The size of the players.
Companies with 2 or 300,000 employees or more make it impossible to impact the organization.
Who can hope to change a process in a group like CGI or Capgemini before many years of presence in the company?
"Many people working in these large groups explained to me that they were allowed to work on an idea and make proposals, but in the end, nothing was implemented...", Geoffrey relates.
👉 The financial constraints imposed by the shareholders.
"And the word "constraints" seems weak to me. I notice that listed companies have no room for operation, they operate on the macro-objective, on the respect of this or that standard, on the achievement of ratios, even if it means being irrational and short-termist." Geoffrey says.
By nature, they are compartmentalized. That's why Ekkiden's medium size gives us a freedom that is easy, but real.
These big groups lead to frustration among the teams. There is a paradox: the large groups invest in their image, present modern companies, and attractive employers to candidates.
But once inside the company, we realize that these groups are constrained by shareholder pressure, are often archaic in their processes or tools, understaffed in key areas and, despite the rhetoric, offer no agility in their organization. 😥
However, the employees remain in these large groups because the project volume is there. And it must be said that these large consulting groups have a reassuring side for large clients.
The big companies are sclerotic! 🤕
More than being frustrating, these large companies are way too restrained in their movement capacities. 🏛️
Who feels free to make decisions in a large IT & digital consulting company? How much trust do they have in their employees? How much value and autonomy are given to its teams?
What impact do employees have? "In my opinion, very little", Geoffrey states.
He gives two examples to illustrate this, heard during discussions 💬 with senior manager candidates from these large groups.
Discussion 1
A senior manager explains to me that in the various interviews he has, he loves to talk with candidates about their expectations in terms of career and use these elements to project these candidates.

Then he talks to them about training, career development and sells them tailor-made support.

When I asked him about his training budget per year, apart from the CPF, he told me that it was capped at €10,000 per year, given that he manages a team of almost 50 engineers.

Do you know how to support engineers who are experts in their field in terms of training with a budget of €200 per year per person? I don't…
Discussion 2
An office manager who didn't have the latitude to validate a selling price outside of his target, had managed to find an interesting project for an inter-contract consultant.

But the validation of the start-up rate which was 30€/day below the sales target took 8 weeks to be validated by the N+2 (!).

Moral of the story: the client doesn't want to hear from the supplier anymore, the manager is frustrated because he felt he had done a good job, and the consultant is no longer there to complain, because he has been contacted by another company and has resigned in the meantime."
The recipe for the IT & digital consulting company of tomorrow 🥘
There are still too many consulting companies that don't know how to address new relationships with their employees, and don't know how to give meaning to the jobs they offer.
Do they ask themselves what impact a young graduate or motivated employee joining their ranks can have?
Are they wondering if their employees can unleash their potential by working within their organization? 🎇
Are they asking themselves how they can help their employees perform better?
Can they afford to invest? Do they really want to break the mold and reinvent themselves? 🔨
What freedom do they have from their investors? 🗽
Do they ask themselves if they can afford to deliver on the promises made in recruitment interviews?
Do they really know why they are being criticized? And if so, what are they doing to ensure that their company matches the expectations of their employees?
"It's fun to turn this around by asking a consultant who is critical of their company what they would do if they had the opportunity to change things", Geoffrey reports. "Do the exercise, and you will see that criticism is common, but proposals are rare. Because consultants are not the right people to have an opinion on the subject? Quite the opposite, only their opinion should count. In fact, they do not have many proposals to make, because they have rarely been given the opportunity to express themselves 🗣️ and even less given the means to implement their ideas."
And it's time for this to change. ❗ That's why Geoffrey created Ekkiden. Not to turn it into another consulting company, no, but to reuse the same ingredients as others, while improving the recipe. 🥘
Our ingredients: the enthusiasm of our teams, our values, the respect of our commitments, the training and development 👩‍🏫 of everyone, innovation in the managerial approach, in the processes and in our tools.
Add to this a limitless ambition, and you will obtain the emergence of the consulting company of tomorrow:
🤲 one that puts its teams at the center,
🤝 one that involves them from day one in its definition, construction, and organization,
💡 one that allows everyone to work on the ideas they want to put in place,
✊ one that seeks to offer meaning to its employees,
💥 one that allows them to have an impact,
🎆 one that allows, through its modern organization and its trust in its teams, to release the potential of each person.
Consultants: YOU are the strategic issue! 🙌
Today, clients are increasingly dependent on their consultants.
Everything is technology, everything is data, everything is applications, and every internal strategic issue is linked to the information system or digital. 💻
What decision can be taken without technological advice nowadays?
Companies have less and less need to "own" the skills and are already calling on external skills.
And this already frequent and common phenomenon is going to increase 📈 even more in the years to come.
From the point of view of the strategic partners of the IT & digital companies, solution providers such as Apple or Microsoft already rely heavily on their partners. Edouard Payenneville, Director of Strategic Alliances - GSI, SI & Advisories at Microsoft, recently told that 95% of Microsoft's turnover worldwide and in France is made through their partners.
So why joining Ekkiden?
👉 We believe we're smarter together.
👉 You never stop learning.
👉 You are able to move forward and change the game.
👉 We lead our business with integrity.
👉 We make you smile and shine.
Have we convinced you? Or at least caught your attention? Check out our career page and join the Ekkiden adventure!