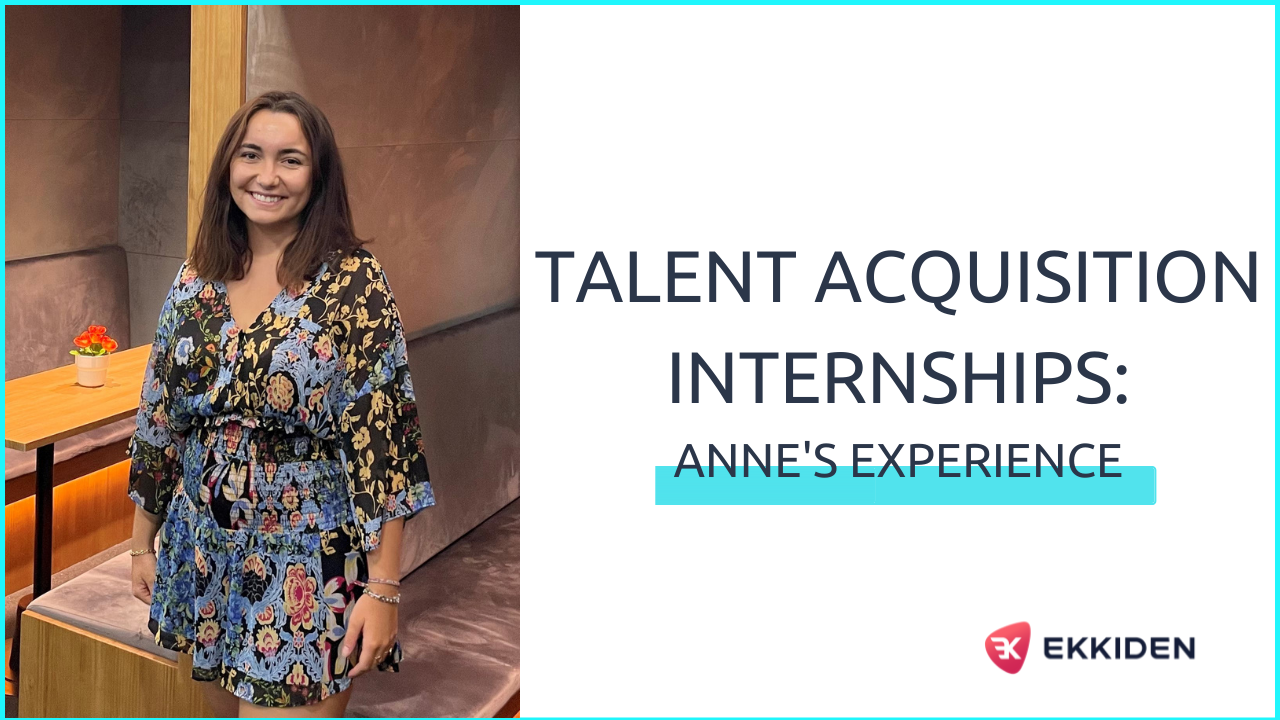 Recruitment tasks in a fast-growing consulting company are very different from a standard talent acquisition role within a Human Resources department. As a student looking for an internship, it is quite easy to get lost between the different internship offers. It is at the same time difficult to understand exactly what you can really expect from the roles described.
Have you ever wondered what is the role of a Community Builder at Ekkiden? Then this article is made for you!
🙋‍♀️ My name is Anne, I'm French and I'm 21 years old. I'm currently studying for a bachelor's degree in Business administration and Management at Kedge BS in Bordeaux and I will be graduating in September. After the first internship in Cape Town, South Africa where I discovered the marketing and communication fields, I wanted to broaden my horizons.
Although Human Resources is part of my curriculum, I never had the opportunity to gain hands-on experience in the field. So, when I was given the chance to join Ekkiden's Talent Acquisition and Community Building team, I was very excited to take on a new challenge.
In this article, I will introduce our Community Building and Talent acquisition team, guiding you through my experience working as an intern at Ekkiden.
Why have I decided to take the leap?
📈 INVOLVEMENT: Like many, prior to starting my internship I had been following classes online due to the pandemic. After six months of interacting through screens, I felt the need to be involved in a project that had true meaning for me and that reflected my values.
And in fact, this internship widely exceeded my expectations!
When I joined Ekkiden, I had no idea what I was getting into, but I was directly surprised by the friendly work environment and the incredible team spirit. Even though the operational teams and the consultants are spread over 6 countries, they are all connected by the same vision of entrepreneurship and unlimited ambition.
💡 LEARNING BY DOING: My second expectation when joining Ekkiden was to feel that my daily tasks would have a tangible impact on the company's growth. As soon as I arrived, I was trusted right away, which allowed me to prove to the team that I could be counted on.
Unlike traditional internships, I was never considered as an intern but rather as a junior team member, which empowered me to share new ideas, take on side projects, and develop new skills. This mindset allowed me to understand that everything was possible if I believed in my ideas and was willing to work hard to turn my vision into reality.
🌎DISCOVERING A NEW CITY: Last but not least, moving to Madrid was an incredible opportunity for me to be exposed to a new culture and to discover the Spanish way of life.
Madrid is a city that never sleeps and has so much to offer both culturally and socially. But the factor that facilitated my arrival in the Spanish capital the most was the immense support that I received from my Madrid coworkers. Joining a team of dynamic, like-minded, and international (over 9 nationalities!🤯) professionals was truly the highlight of my internship experience.
Here, after works are a weekly tradition that allows us to bond on a personal level! 🍻
Which were my tasks on the team?
The Community Team is one of the major drivers of Ekkiden's success. We carry out the candidate's recruitment process, using different channels and actions: being present on social networks and producing content, monitoring our many applications, leading, and strengthening the relationship with our consultants while offering and improving our processes to offer the best experience ever to our candidates.
During my internship, I focused on the talent acquisition activities for the French engineering and industrial field, so my day-to-day was based on working closely with Parisian Business Managers to find top consultants to take on our different clients' projects.
However, even though I counted on the best support of my colleagues, one of the main challenges during my internship was to learn the technical engineering environment.
Was it hard? A little bit. Impossible? Never! 🙅
Understanding the different roles, skills and positions allowed me to build strong research and analytical skills.
Also, one of the most rewarding points of my internship as a Community Builder has been to be in contact with different types of profiles. I'm generally very curious, so I love to exchange with the candidates about their professional path, their backgrounds, and interests, which has brought me great learning experiences.
In addition to the typical recruitment tasks, I also contributed to shaping our tech community.
But why a Community? 🤔
TogetherbyTech is an online network designed to bring together professionals and lovers of the IT and digital sectors. In fact, one of the main goals of our team has been to bring the community to life by creating thought-provoking content for all.
👉 How to join? Check here.
Thus, my experience at Ekkiden has been a real springboard that allowed me to grow, during these last six months. Evolving in such a dynamic environment nurtured my desire to pursue an international career after my studies.
So, if you are looking for a unique and challenging internship, have a look at the different vacancies we have.
We'll be happy to have you on board! 🚀