At Ekkiden, we trust in youth. From the very beginning, we bet on emerging talents in particular through internships and junior profiles.
Why? Because they are innovative, dynamic, motivated, audacious and not afraid to break the rules. We want to tell you their stories at Ekkiden.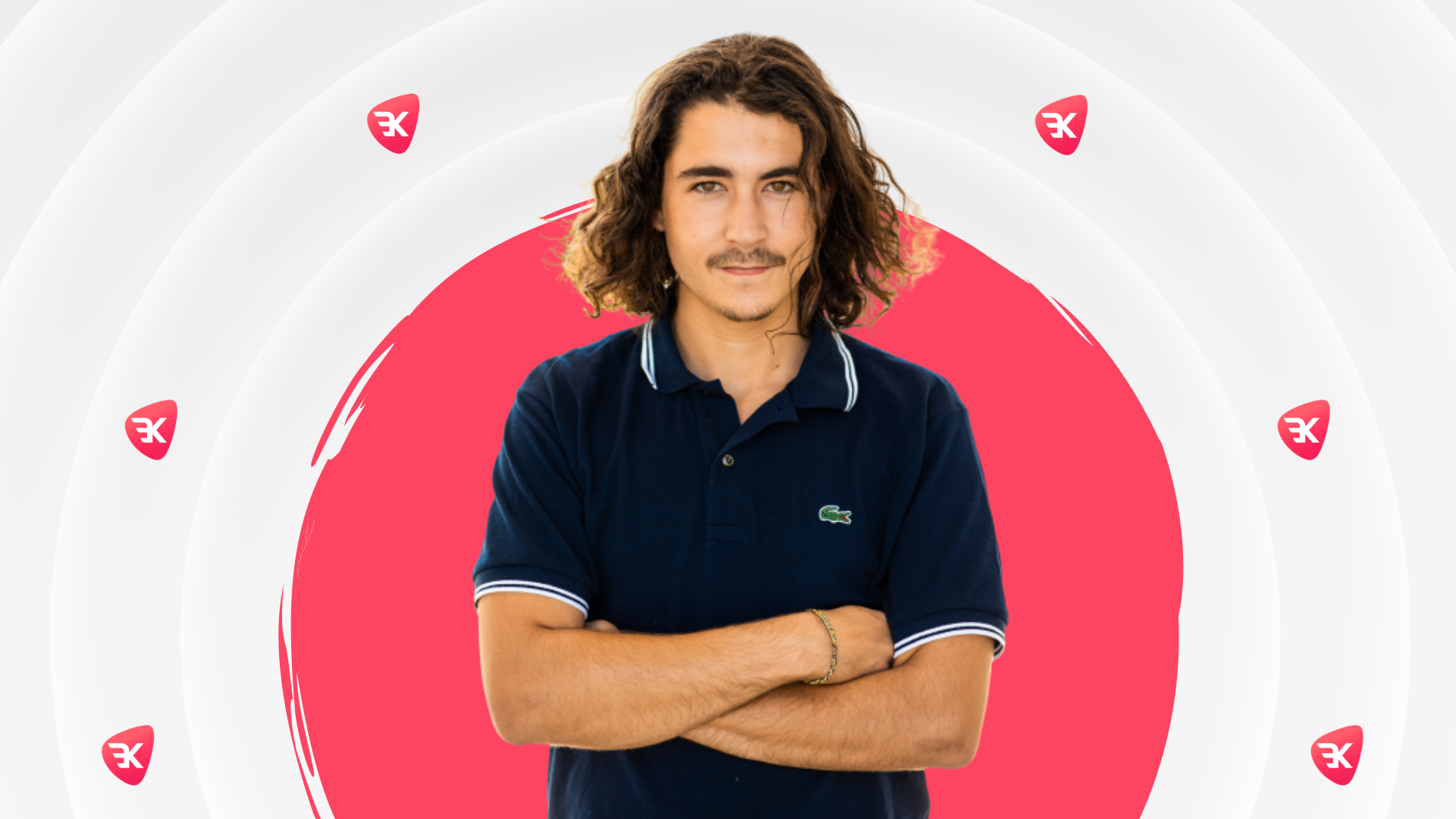 César spent 6 months as a Community Builder / Talent Acquisition intern at Ekkiden. Here is his story after his adventure in our Madrid's office.
🌱 Cultivating the difference
Above all, why did César choose to do his internship with us? For our international presence! "I wanted to do my internship abroad, and especially to come to Spain."
And this is one of Ekkiden's strengths: with our four offices in France, Spain, Switzerland and Germany, we can offer employees who join us, whether interns or not, European mobility, a multicultural environment and team. This is what convinced César and many others at first!
Was his choice simply a matter of location? Not really! "I wanted to find out what recruitment was all about. Moreover, I really needed contact and to work with new people, especially after the Covid. During my interview I was introduced to Ekkiden as a people-oriented company. It was the perfect match."
This is how César was able to learn and to develop his skills, whether it was through his discovery of recruitment or his meeting with our internal team in Madrid, which has more than thirty people.
"What I liked about Ekkiden was the culture of difference." At Ekkiden all differences, whatever they are, become a strength. We are proud to promote the particularities of each person and to let them express them as they should.
This can be seen in particular through in the diversity of our employees' profiles: around twenty nationalities, varied experiences and atypical backgrounds... As long as the motivation and skills are there, there is a place for everyone at Ekkiden!
🤠 Discovering himself
César joined our Community team as a Community Builder and Talent Acquisition. However, he discovered that dealing with customers was not what he preferred, nor what he was best at. "At that point, my manager directed me to a more administrative and support role."
As far as assignments are concerned, Ekkiden makes sure to adapt to its interns, as we believe that an internship should allow the intern to grow and learn as much as possible, regardless of their initial assignments. "I'm happy to have had a rehabilitated position where I could prove myself and take the load off the other teams."
César also had the opportunity to lead side projects: "I was able to help perfect the onboarding process, I built the Notion for my area to make it a sort of recruiter's bible, and I also created a mentoring programme called buddy".
The idea of this last side project, conceived and implemented by César, is to allow anyone joining Ekkiden to be helped in their integration by someone who is not their manager (a buddy). This buddy is there to answer all kinds of questions and needs, to help and accelerate the integration of new employees into the teams.
At Ekkiden, the side projects like this one are a tradition! We always encourage trainees to propose new ones: this allows them to discover other things in other Ekkiden departments, always with the idea of learning as much as possible. More opportunities to learn and unleash potential!
📚 Learning at all levels
But in concrete terms, what will César retain from this experience? "I kept motivated despite the difficulties; it was the right thing to do, and I only remember the positive. I met people with whom I got on very well, on a professional and personal level."
The difficulties that César encountered were indeed not prohibitive: we adapt to the needs of each trainee so that they feel good and useful. Moreover, we do everything possible to guarantee a company culture based on the well-being and understanding of its employees.
"I learned to multi-task, to manage my time better, and to manage different projects". At Ekkiden, we don't hesitate to challenge our teams and to offer them numerous opportunities to work on projects in order to maximise the learning experience. We want everyone who comes to Ekkiden to grow and to leave with a positive experience!
"My internship at Ekkiden taught me about organisation, teamwork, working remotely, how recruitment works...". At Ekkiden, teamwork is fundamental, and our company culture is organised around this value.
By the way, the name Ekkiden comes from the Japanese relay and marathon sport ekiden: we leave no one behind, and without the team, nothing is possible.
"I realised that freedom in work is only possible when there is trust". Indeed, Ekkiden chooses trust, responsibility, autonomy and freedom with regard to its teams.
As soon as this trust is established, we show great flexibility in working conditions in matter of remote work for example!
And in terms of tools? "I was able to learn how to manage a CRM such as Hubspot, and touch various tools such as Recruiterflow, Trello or even Canva". Ekkiden get the trainees into the thick of things to integrate them completely into the company's operations.
For example, even if someone does not know how to use a tool or a resource, we provide the training and the time to learn how to use it. As a young SME, we grow with each intern, allowing them to have a direct impact on the company.
In short? "After a difficult period that taught me to regulate myself and face difficulties, I managed to stay motivated and make efforts, thanks in particular to my colleagues and my manager. These 6 months have been intense and rich at all levels!"
👉 Are you looking for an internship? Visit our recruitment page and let's start our adventure together!