At Ekkiden, we trust in youth. From the very beginning, we bet on emerging talents, in particular through internships and junior profiles.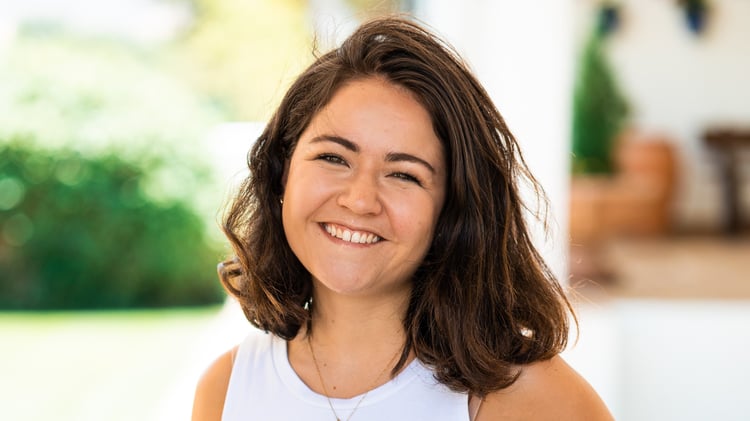 Some of them are bold, innovative and audacious, while others have a more tender side with touching stories about their personal and professional growth with Ekkiden.
Ana Paola spent her 6 months internship as a Finance Administrative Officer, reinforcing the Finance department of Ekkiden. Discover her story! (Spoiler alert: she never left us after the end of her internship!)
---
When I moved from Mexico to Madrid, I never imagined that I would end doing my internship at a great company such as Ekkiden.
I remember my first day as if it was yesterday. On January the 3rd, my journey started at Ekkiden.
Since the beginning, I've met so many people from different nationalities who have taught me a lot, not only about work, but also about different cultures, languages, and ways of doing things.
The skills I have gained are immeasurable and I could not have asked for a better internship. That's why I'm writing this article, to share with you the top learnings that I have gain.
◾Being enthusiast is key
As an intern, it is important to be enthusiastic and open to learn new things, not only because it will show that you enjoy being part of the team, but also because being enthusiastic and having curiosity will lead to a lot of opportunities.
At Ekkiden, I had the chance to be part of the Next Generation Program, which for me was a very enriching experience as I had the opportunity not only to work with different colleagues from different areas, but also to lead a whole part of it which was the content creation program where I worked side by side with the marketing team.
◾ It's ok to make mistakes
All my life I've considered myself a perfectionist, meaning that I'm always looking to achieve the best results in the shortest period and honestly, I do not like to fail.
At the beginning of my internship, I had so many things to learn that I had to step back and remind myself that everyone started from the bottom and that mistakes are useful, because they make you learn from them.
Thankfully, I have a great team on which I can really count if I need some guidance and who is always open and ready to teach.
◾ Try something new
English is not my first language, neither is French, and to be honest, when my internship started, I was very rusty in both.
During my interviews before I joined the company, I've been told that my team would be French-speaking and that we will work fully in English.
I decided to take the risk and see this as an opportunity to improve what I have learned in the past, and I do not regret my decision! For the past year I have been able to improve these languages and I even got the opportunity to learn a few of other languages like German thanks to my colleagues.
◾ Don't be afraid to ask questions
Let's be honest, I'm not the most extrovert person: I consider myself more a listener than a talkative person so asking questions is not the thing that I enjoy the most.
However, when you are starting a new job, it's impossible to not ask questions.
As an overthinker, I was always concerned about being annoying, but it didn't take long for me to understand that my team members wanted to help me, and they wanted me to succeed.
After all, an internship is a learning experience, and the best way for me to learn is by asking questions, which is for me the best way to improve and to acquire new hard and soft skills.
◾ Keep an open mind and a positive attitude
Working at a young company such as Ekkiden means that a lot of things will be evolving and changing constantly.
However, that is one of thing that I like the most, because I feel that my voice counts.
If I think that something can be done differently or that we can add a new procedure, there is always someone who is willing to listen to my recommendations, give me advice and help me to make things happen.
◾ Networking is your best friend
During the past year, I learnt how to build connections and to communicate with people from everywhere around the world and from different business areas.
I got the opportunity to gain a better understanding of business matters depending on the country and how to communicate effectively.
By doing this, I had the chance to develop my professional network and create new connections as well as increase my visibility in order to work efficiently by knowing who to contact in every situation.
Given these points, I would like to state that this internship was a great experience where I had the opportunity to find out what my strengths and weaknesses are as well as to gain new knowledge, not only related to my field but related to the multicultural environment of Ekkiden.
I have met many new and amazing people from all around the world and I'm happy to benefit from this opportunity. Being an intern at Ekkiden was one of the best decisions I took, and I would definitely recommend this opportunity to possible new joiners whenever I can.
At Ekkiden, I achieved many of my learning goals, I learnt a lot and I met so many people which today I'm happy to call my friends.
I'm really looking forward for what will come next, as I became a permanent contract!
---
👉 Are you looking for an internship? Visit our recruitment page and let's start our adventure together!